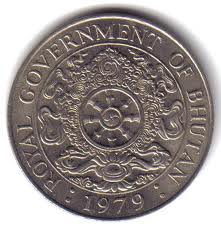 The ngultrum (ISO 4217 code BTN) has been the currency of Bhutan since 1974. It is subdivided into 100 chhertum (called chetrums on coins until 1979).
History In 1974, the ngultrum was introduced, replacing the rupee at par. The ngultrum is equal in value to the Indian rupee.
India was key in assisting the Bhutanese government as it developed its economy in the early 1960s. When the ngultrum was introduced, it retained the peg to the Indian rupee which the Bhutanese rupee had maintained. The ngultrum does not exchange independently with other nation's currencies but is interchangeable with the Indian rupee.
Coins In 1974, aluminium 5 and 10 chetrums, aluminium-bronze 20 chetrums and cupro-nickel 25 chetrums and 1 ngultrum were introduced. The 5 chetrum was square and the 10 chetrum was scallop-shaped. A new coinage was introduced in 1979, consisting of bronze 5 and 10 chhertum, and cupro-nickel 25 and 50 chhertum and 1 ngultrum. Aluminium-bronze 25 chhertum were also issued dated 1979. The 5 and 10 chhertum have largely ceased circulating.
Banknotes In 1974, 1, 5 and 10 ngultrum notes were introduced by the Royal Government, followed by 100 ngultrums in 1978 and 2, 20 and 50 ngultrums in 1981. The Royal Monetary Authority took over the issuance of paper money in 1986. In 2006, the Monetary Authority introduced a new series of notes, including a 1 ngultrum.
The text on this page has been made available under the Creative Commons Attribution-ShareAlike License and Creative Commons Licenses