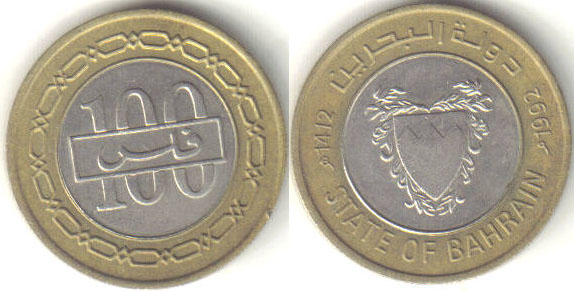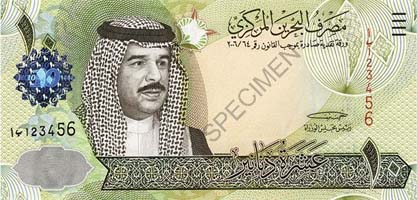 The dinar(sign:BD; code: BHD) is the currency of Bahrain. The ISO 4217 currency code is BHD. It is divided into 1000 fils. The name dinar derives from the Roman denarius. The dinar was introduced in 1965, replacing the Gulf rupee at a rate of 10 rupees = 1 dinar. The Bahraini dinar is abbreviated BD (Latin). It is usually represented with three decimal places denoting the fils.
Coins
In 1965, coins were introduced in denominations of 1, 5, 10, 25, 50 and 100 fils. The 1, 5 and 10 fils were struck in bronze, with the others in cupro-nickel. The 1 fils coin was not produced after 1966 and no longer circulates. In 1992, brass replaced bronze in the 5 and 10 fils and a bimetallic 100 fils coin was introduced. A bimetallic 500 fils followed in 2000.
Banknotes
In 1965, The Bahrain Currency Board introduced notes in denominations of 100 fils, ¼, ½, 1, 5 and 10 dinar. In 1973, the Bahrain Monetary Agency took over production of paper money, issuing notes for ½, 1, 5, 10 and 20 dinar. In 2006, the Monetary Agency was renamed the Central Bank. On March 2, 2008, the Central Bank of Bahrain has released pictures of the new notes bearing its name in the local newspapers. The Central Bank stated that the new notes will be released shortly. The new notes also feature new images reflecting Bahrain's heritage as well as its modern development. Saudi riyals are also acceptable in Bahrain, with the exception of the Saudi 500 riyal note which is only accepted in major supermarkets, airports and electronic shops.
Fixed exchange rate
In December 1980, the dinar was officially pegged to the IMF's Special Drawing Rights (SDRs). In practice, it is fixed at 1 U.S. dollar = BD .376, which translates to approximately 1 dinar = 2.65957 dollars and, consequently, almost 10 Saudi Arabian Riyals. This rate was made official in 2001. Before Malta's adoption of the euro on 1 January 2008, it was the third highest-valued currency unit after the Kuwaiti dinar and Maltese lira. Now it is the second highest.
The text on this page has been made available under the Creative Commons Attribution-ShareAlike License and Creative Commons Licenses